6/30/2016
CHNEP receives FWF Conservation Organization of the Year award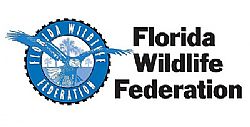 The Florida Wildlife Federation has named the Charlotte Harbor National Estuary Program among 10 outstanding Florida conservationists that are being recognized for their conservation achievements.
Conservation award winners are chosen from nominations made to the Federation's board of directors based on their accomplishments on behalf of Florida's fish, wildlife and native habitats.
The Charlotte Harbor National Estuary Program received the Conservation Organization of the Year Award for 2016. Established in 1995, the program encompasses 4,700 square miles from Bonita Springs north to Venice and east to Winter Haven. It is one of only 28 estuary programs across the United States.
The estuarine conservation program is commended for the collegial partnership of citizens, elected officials, resource managers, and commercial and recreational resource users. Using sound science to build consensus, the partnership effectively acts as a single voice for the Charlotte Harbor watershed.
However, it was the estuary program's outreach to elementary school students through its Adventures in the Charlotte Harbor Watershed that caught and held Florida Wildlife Federation's attention. The educational program, financially supported by the Federation, includes not only the coastal schools, but also the often overlooked "upstream" and rural schools.
By engaging local schools and communities, the program is strengthening the land-water connection and building a multi-generational appreciation of the Charlotte Harbor estuarine watershed.