Because stormwater runoff is generated from dispersed land surfaces—pavements, yards, driveways, and roofs—efforts to control stormwater pollution must consider individual, household, and public behaviors and activities that can generate pollution from these surfaces. MS4 permittees are required to educate their communities on the pollution potential of common activities, to increase public awareness of the direct links between land activities, rainfall-runoff, storm drains, and their local water resources. The goal is to give the public clear guidance on steps and specific actions that they can take to reduce their stormwater pollution-potential.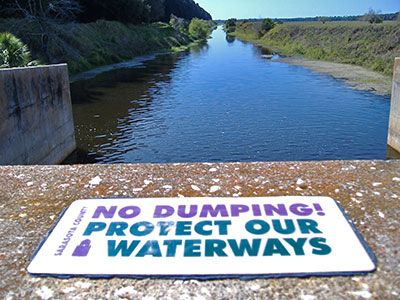 Storm Drain Markers can increase public awareness and help spread the word about stormwater pollution prevention.
Examples of community education undertaken by Sarasota County include producing and distributing informational brochures and flyers, airing radio/TV public service announcements, giving neighborhood presentations and conducting workshops, publishing articles and newsletters, providing personnel and informational displays at public events, and posting educational information on the County-operated and -sponsored websites, including this one.
The Florida-Friendly Landscaping Program™ helps reduce the nutrient load in stormwater runoff, and addresses the serious problems of water shortages and disappearing habitats by enlisting Floridians in the battle to save our natural resources. This hands-on outreach program, which is implemented through Sarasota County's UF/IFAS Extension Service, provides education to local communities that helps residents create a Florida landscape with minimal negative environmental impact; a Florida-Friendly landscape.
The Neighborhood Environmental Stewardship Team (NEST) is a community outreach program that assists participating groups with the resources needed to complete educational and hands-on projects that protect and restore water quality, and helps homeowner and condo associations to implement Best Management Practices in their communities.
Another important component of public education is certification workshops for people employed in "green industries" — commercial landscape maintenance and horticulture. Companies that apply fertilizer and/or pesticides to turf or landscape plants in unincorporated Sarasota County must comply with the Sarasota County Fertilizer and Landscape Management Code, Ordinance No. 2007-062, effective March 3, 2008. One provision of the ordinance requires employees of these companies to complete approved training courses that teach the most current version of the Florida Green Industries Best Management Practices for Protection of Water Resources in Florida. These courses are offered through the UF/IFAS Sarasota County Extension at nominal cost.